Battle Stadium D.O.N PS2 ISO Download
– Siapakah yang lebih kuat di antara Goku, Luffy, atau Naruto? Anda mungkin tidak akan pernah mengetahui jawabannya karena ketiganya berasal dari dunia yang berbeda. Game berjudul Battle Stadium D.O.N ini memiliki genre fighting dan mempertemukan ketiga karakter tersebut. Nama D.O.N ini sendiri merupakan singkatan dari Dragon Ball, One Piece, dan
Naruto
. Ketiganya merupakan judul manga terkenal yang dipublikasikan oleh Weekly Shonen Jump.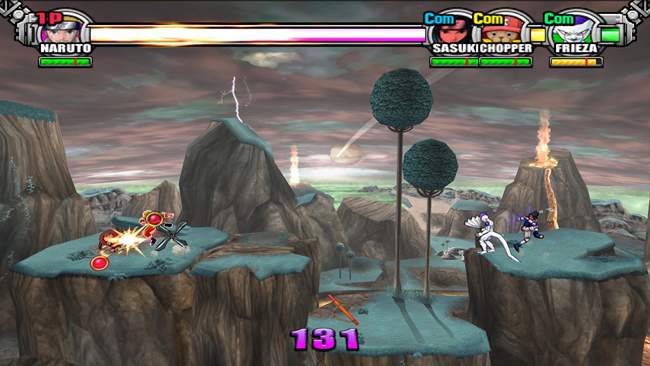 Jumlah tokoh yang dapat dimainkan ada 20 karakter. Namun, Anda harus mampu membuka beberapa karakter dengan kemampuan khusus dengan cara memenangkan pertarungan. Hanya 12 tokoh yang sudah dibuka dan dapat dimainkan pada awal game.
Sebagai permainan yang memiliki genre fighting, Battle Stadium D.O.N tidak memiliki alur yang cukup signifikan. Pemain hanya perlu memilih karakter favorit mereka dan bertarung. Keunikan dari permainan ini adalah setiap tokoh memiliki kemampuan khusus. Tentunya, hal tersebut disesuaikan dengan kemampuan pada manga asal karakter yang bersangkutan.
Pertarungan dilakukan dalam dua, tiga, atau lima ronde tergantung dari misi yang ingin diselesaikan oleh pemain. Semakin tinggi tingkat kesulitan yang dipilih oleh pemain, maka semakin sulit pula misi yang akan diberikan. Dengan menyelesaikan misi di Battle Stadium D.O.N PS2 ISO Download, Anda akan dapat membuka karakter baru dan mendapatkan beberapa jenis bonus permainan.
Info
Developer: Eighting
Publisher: Namco Bandai Games
Release date: July 20, 2006
Genre: Fighting
Mode: Single-player, multiplayer
Languages: Japanese
Screenshots: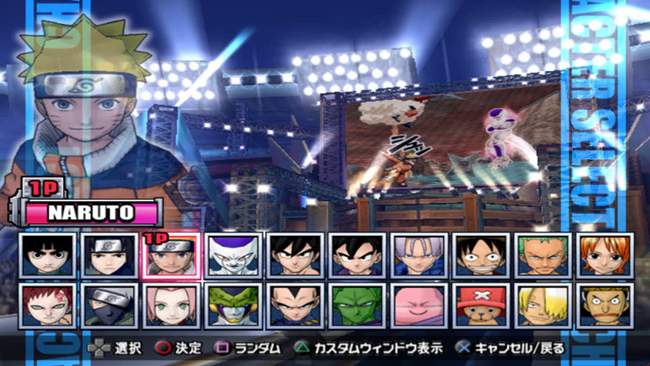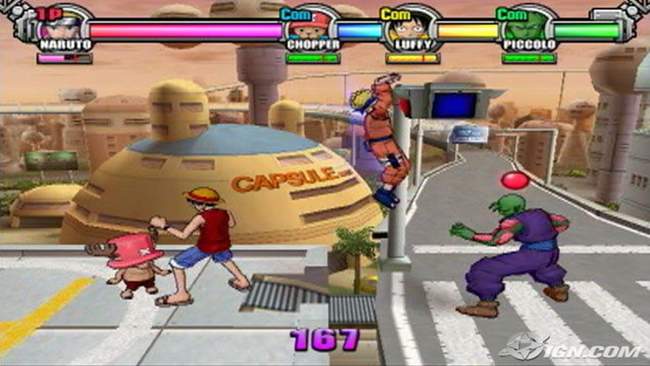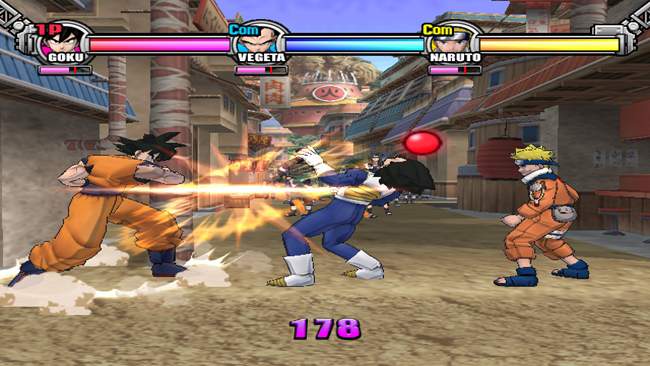 Main Menu
Battle Stadium Mode
Survival Challenge
Time Attack (Needs to be unlocked)
Practice
Free Battle Mode
Item Use Mode(Items unlocked through slot machine).
Options
Gallery (Needs to be unlocked)
Cara main:
1.Extract file download dengan Winrar Full.
2.Buka folder hasil ekstrak.
3.Load file ISO menggunakan PCSX2.
4.Selamat bermain.
Battle Stadium D.O.N Download